PacketLight Corporate Video
PacketLight's transponder technology offers a unique architecture and the ability to transport any mix of service rates up to 400G in metro, long haul and data center interconnect applications over dark fiber, OTN networks and as alien wavelengths.
Transport any mix of service rates up to 400G in DCI, metro and long haul applications over dark fiber, DWDM network, or as alien wavelength.
DWDM transponders enable high utilization of the same fiber to carry up to 96 services, as each service is mapped into a separate spectral wavelength. In addition, transponders reduce the number of optical amplifiers needed, as the integrated amplifier can amplify up to 96 wavelengths sharing the same fiber.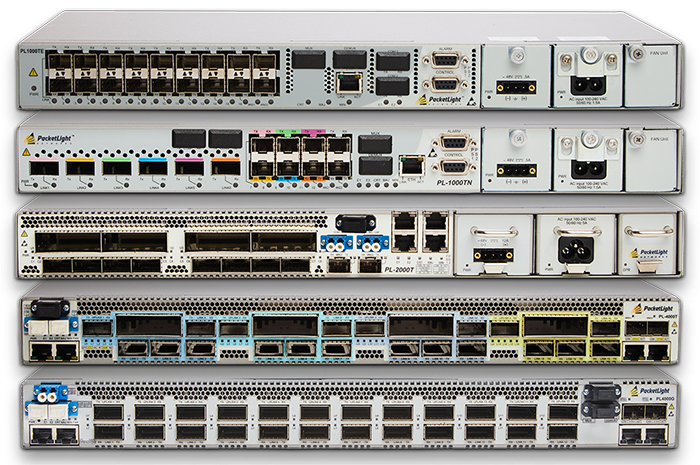 Please contact us for a quote or further assistance.
An Important Piece of the Network Puzzle
Transponders are an important component in DWDM (dense wavelength division multiplexing) systems, as they extend network distance by converting short reach optical interfaces of LAN and SAN switches and routers into wavelengths. By preforming the 3R's (retiming reshaping, re-amplifying), transponders enable a reliable error-free optical communication link between remote data centers and central office sites. In long haul and metro amplified links, the transponders map the signals into standard optical transport network layer (OTN) which supports FEC and guarantees error-free transmission without the need for expensive regenerators.
Transponders work as the demarcation point between the optical transport link and LAN, SAN, SDH and video equipment. They are agnostic to third party vendor equipment and can support any standard service type. The transponders transport data transparently, at its full rate, without changing or manipulating it. Depending on the application, transponders can work as an optical-electrical-optical (OEO) wavelength converter, OTN transponder, or fiber-to-fiber media converter.
Transponders carry out performance monitoring on all the optical interfaces on both the client and the uplink sides and on the client service, enabling quick fault isolation and diagnostics of the fiber link, which assists the service providers and enterprise to meet the SLA needed.
Highly Integrated Solution
PacketLight offers a full range of transponder solutions, from 1G up to 400G capabilities. Depending on the application needs and product type, the transponders can provide additional functionality such as protection of the optical link and encryption.
PacketLight's highly integrated, compact, 1U transponder units comprise mux/demux, muxponder, DCM and amplifiers (for long distances, where required). Transponder slots fit a standards-based SFP, SFP+, XFP and/or CFP, providing the user with a modular, pluggable solution for both service and line sides. This architecture enables easy growth by simply adding optics to add services. PacketLight's transponder devices provide 1+1 protection, remote management, and embedded OSC channel.
PacketLight transponders support:
High capacity (up to 1.6T), low latency for storage applications such as data center interconnect (DCI)
High capacity short and long haul 40G/100G/200G applications
10G optical transport for metro or long haul applications
Easy integration over existing OTN infrastructure (alien wavelength)
Layer-1 optical encryption
Support multi-rate and multi-protocol transponders all in 1
Please contact us for a quote or further assistance.
Related products