PacketLight Corporate Video
PacketLight LightWatchTM multi-platform Java-based network management system (NMS) is an essential tool for effectively managing, configuring, and monitoring fiber optic networks.
PacketLight's NMS provides comprehensive visibility and control over network infrastructure, enabling administrators to ensure optimal network performance, security, and reliability. The NMS enables administrators to monitor the equipment on the network, track traffic, detect and resolve issues, and configure network devices remotely.
The system collects and analyzes network data, and generates valuable insights and reports that are central in decision-making and troubleshooting. By centralizing network management tasks and automating routine processes, the NMS streamlines operations, enhances efficiency, and reduces downtime. It serves as a critical component in maintaining a robust and resilient network infrastructure in today's mission-critical landscape.
The system provides full fault, configuration, accounting, performance, security (FCAPS) functionality and is compliant with telecommunications management network (TMN) standards.
LightWatch uses the MySQLTM database, and is built with modular client pay-as-you-grow offerings, scalable to 500 network elements and 20 clients.
Please contact us for a quote or further assistance.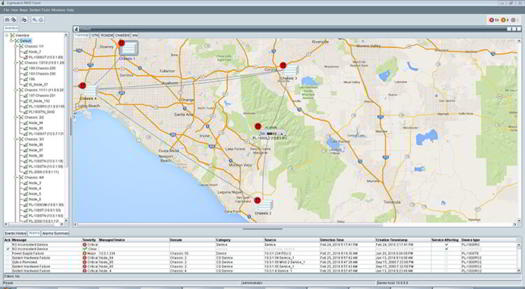 Key Features
Hierarchical topology view of the devices in the network
Network fault management
Network inventory management
Service management
Management and configuration of users
Task scheduling for network operation (e.g. software download, configuration files upload and download)
Collects, displays and stores performance monitoring (PM) data from all network elements
Chassis management
Supports distributed client server architecture
Supported by Windows and Linux operating systems
NMS server resiliency
Topology Planning
Allows hierarchical network domains
Automatic network topology discovery
Allows manual drawing of the connections between nodes
Allows definition of background map
Fault Management
Displays history of network events
Shows current alarms
Supports filtering events and alarms
Keeps up to 30 days of event history
Supports audible alarms
Event forwarding to email server
Task Scheduling
Scheduling download of new software versions into groups of network elements
Scheduling upload of configuration files from group of network elements
Scheduling download of configuration files into group of nodes
Downloading license files into group of nodes
Uploading log files from group of devices
Performance Management and Inventory
Collects PM data from all devices in the network
Displays the history of 15–minute and Day PM data
PM counters according to pre-defined filter
Supports configurable graphical view of PM data
Allows export of PM information to file in .CSV format
Displays inventory of group of network elements
Complies with standard ENTITY-MIB (RFC-4133)
Allows filtering of the network elements according to selected field values
Supports export of inventory into .CSV file
SMM - Service Management Module
A-to-Z service provisioning wizard
Automatic detection of provisioned services
Displays and highlights the path of a selected service
Supports display of service path, status and faults
Supports full service awareness with the advanced chassis service management module (CSMM)