PacketLight Corporate Video
PacketLight's PL-1000D fiber optic diagnostic device constantly and non-intrusively monitors wavelength quality and faults in the fiber.

The PL-1000D facilitates non-intrusive fiber optic network monitoring, providing carriers, dark fiber providers, utilities, and enterprises real-time network diagnostics and improved service level agreements (SLAs).
Non-intrusive OTDR and OSA fiber monitoring
Remote real-time fiber optic network monitoring and diagnostics.
The device integrates an optical time domain reflectometer (OTDR) and an optical spectrum analyzer (OSA) into a 1U box for minimal rack space and improved CAPEX and OPEX. The PL-1000D saves costs and time as it reduces the need to send technicians to the field, and the need for dedicated test equipment.
Please contact us for a quote or further assistance.
Flexible Design
The PL-1000D simultaneously monitors up to 16 fiber strands, eight on the OTDR and eight on the OSA, and operates standalone over dark fiber, lighted fiber, or a third party network without impacting network traffic. The device monitors the entire DWDM C-band spectrum and provides the optical spectrum, OSNR, and OTDR measurements of the fiber.
Powerful Feature Set
The PL-1000D consists of two mechanisms for monitoring live fiber optic networks: OTDR and OSA.
OTDR
The OTDR locates fiber cut by sending high powered optical pulses into the fiber and creating Rayleigh back-reflections. The returning signals are measured and calculated, indicating the accurate location and intensity of the fault.
OTDR Diagram
The OTDR alerts the user of changes in the fiber quality and performance, and displayed graphically in PacketLight's LightWatch NMS.

Graphical Display of the OTDR, from PacketLight's LightWatch NMS
OSA
The OSA enables the user to monitor the OSNR and optical spectrum of each fiber and shows a full, accurate and detailed picture of the wavelengths used in the fiber.

OSA Diagram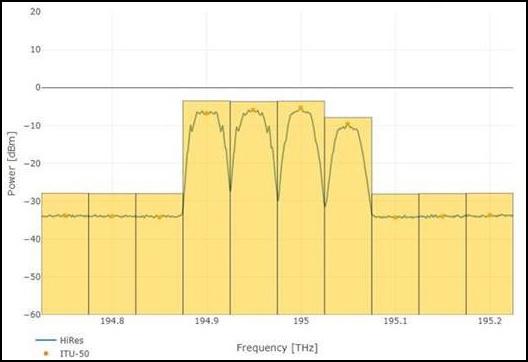 Graphical Display of the OSA, from PacketLight's LightWatch NMS
Please contact us for a quote or further assistance.
The device can be used as an optical time domain reflectometer (OTDR), optical spectrum analyzer (OSA), or both
Monitoring up to 16 fibers simultaneously, 8 by the OTDR and 8 by the OSA
Controlled using PacketLight web application or PacketLight's Lightwatch™ NMS
OTDR:

Integrates 1:8 optical switch and OTDR
30dB fiber loss
Embedded 1610nm OADMs
Accuracy 15m
Dead zone of 5m from transmitter

OSA:

Integrates 1:8 optical switch and OSA
Embedded splitters
Support full C-band
Supports 50GHz or 100GHz ITG grid
Measures the power, frequency and OSNR of the optical channels in the fiber

1U footprint 19"
Dual AC/DC PSU
Hot swappable fan unit
Low power consumption
Easy to use, easy to maintain
Monitoring dark fibers service/infrastructure
Monitoring lighted DWDM fibers
In service OTDR measurements for DWDM networks
In service OSA measurements for DWDM networks
Detection of fiber tapping
Simultaneous OTDR of up to 8 fibers
OSA monitoring of up to 8 fibers
Controlled using PacketLight web application or PacketLight's Lightwatch™ NMS
In service fiber monitoring
Can operate over dark fiber or over third party network
Integrates with other PacketLight solutions
Detection of fiber tapping attempts